Visit us at CPhI North America | informEx 2017
Details
Meet us in person
Rieke Metals is excited to be exhibiting at informEx this May 16-18 at booth 3255.  Stop by to hear all the exciting new advances happening at our labs and see how we can help take your research to the next level.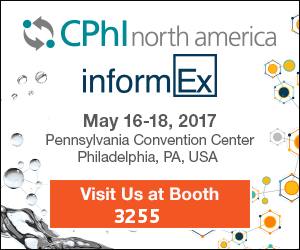 Going green with 2-methyltetrahydrofuran (2-MeTHF)
Details
Over the past 20 years, research in healthier and environmentally friendly solvents has seen huge advances, and we at Rieke Metals are excited to get involved.  We now offer over 30 Grignard and organozinc reagents in 2-methyltetrahydrofuran or 2-MeTHF.  Derived from renewable resources, 2-MeTHF is an aprotic ether solvent.  Its properties place it between tetrahydrofuran (THF) and diethyl ether in regard to polarity and Lewis base strength.  
Molarity ranges from 0.5M to 1.0M  and every compound listed is in stock.  We continue to research all of our current organometallic offerings and will continue to offer more in 2-MeTHF.  Please contact us for your specific organozinc or Grignard reagents in 2-MeTHF.
References can be found by clicking this link to our references page.
Current offerings in 2-MeTHF


2-tert-Butoxy-2-oxoethylzinc chloride, cat#2356
4-Cyanobutylzinc bromide, cat#2349
3,5-Difluorobenzylzinc bromide, cat#2350
4-Fluorobenzylzinc chloride, cat#2351
2-Thiazolylzinc bromide, cat#2352
4-Fluorophenylmagnesium bromide, cat#3255
3-Fluorobenzylmagnesium chloride, cat#3259
3-Methoxyphenylmagnesium bromide, cat#3260
4-Methoxyphenylmagnesium bromide, cat#3261
2-Methoxyphenylmagnesium bromide, cat#3262
3-Chlorophenylmagnesium bromide, cat#3263
3,4-Difluorophenylmagnesium bromide, cat#3264
3,5-Difluorophenylmagnesium bromide, cat#3265
4-N,N-Dimethylanilinemagnesium bromide, cat#3266
(1,3-Dioxan-2-ylethyl)magnesium bromide, cat#3267
3-Fluorophenylmagnesium bromide, cat#3268
1-Naphthylmagnesium bromide, cat#3269
9-Phenanthrylmagnesium bromide, cat#3270
4-Phenoxyphenylmagnesium bromide, cat#3271
4-Thioanisolemagnesium bromide, cat#3272
4-n-Butylphenylmagnesium bromide, cat#3273
4-tert-Butylphenylmagnesium bromide, cat#3274
4-n-Propylphenylmagnesium bromide, cat#3275
4-Ethylphenylmagnesium bromide, cat#3276
5-Fluoro-2-methylphenylmagnesium bromide, cat#3277
4-Fluoro-2-methylphenylmagnesium bromide, cat#3278
3-Fluoro-4-methylphenylmagnesium bromide, cat#3279
3,4,5-Trifluorophenylmagnesium bromide, cat#3280
3,4-Dichlorobenzylmagnesium chloride, cat#3281
3,5-Dichlorobenzylmagnesium chloride, cat#3282
4-Chlorobenzylmagnesium chloride, cat#3283
2,5-Dimethoxyphenylmagnesium bromide, cat#3284
3,4-Dimethoxyphenylmagnesium bromide, cat#3285
2-Biphenylmagnesium bromide, cat#3286
4-Biphenylmagnesium bromide, cat#3287
3-Fluoro-4-methoxyphenylmagnesium bromide, cat#3288
5-Fluoro-2-methoxyphenylmagnesium bromide, cat#3289
3-Fluoro-2-methylphenylmagnesium chloride, cat#3290
4-Fluoro-3-methylphenylmagnesium bromide, cat#3291
4-Fluoro-1-naphthylmagnesium bromide, cat#3292
2-Methyl-1-naphthylmagnesium bromide, cat#3293
4-Methyl-1-naphthylmagnesium bromide, cat#3294
6-Methoxy-2-naphthylmagnesium bromide, cat#3295
2,3,4,5,6-Pentamethylphenylmagnesium bromide, cat#3296
2,4-Dimethoxyphenylmagnesium bromide, cat#3297
4-Methoxybenzylmagnesium chloride, cat#3298
2,3-Dimethylphenylmagnesium bromide, cat#3299
2,4-Dimethylphenylmagnesium bromide, cat#3300
2,5-Dimethylphenylmagnesium bromide, cat#3301
2,6-Dimethylphenylmagnesium bromide, cat#3302
3,4-Dimethylphenylmagnesium chloride, cat#3303
3,5-Dimethylphenylmagnesium bromide, cat#3304
2,3,5,6-Tetramethylphenylmagnesium bromide, cat#3305
2-Cyano-5-fluorophenylzinc bromide, cat#2345
Details
Introducing the newest member of our exciting organozinc reagent line.  
New faces at Rieke Metals
Details
With the retirement of the founders, there were some big shoes to fill.  Luckily the strong reputation of Rieke Metals allowed the company to recruit some excellent new employees over the past year.
Shannon Bellino joined Rieke Metals as Director of Sales for Life Sciences in April of last year. Shannon has over 10 years experience selling into the life sciences industry.  Her most recent employment was as Regional Sales Manager for Life Sciences at Thermo Fisher Scientific. Shannon's experience supporting customers in a cGMP environment enhances the company's strong technical offering and supports its transformation from a supplier of research materials to a commercial partner.
Chriss Furrer joined Rieke Metals in April 2014 as office manager/accountant. She has over fifteen years of accounting and HR experience. Her most recent employer was Controller with Phenomblue, a connected communications firm in Omaha, NE. She has also worked in the restaurant/golf course industry as well as a tax accountant for a law firm. Her number one focus is customer and vendor satisfaction, along with GAAP accounting standards. Focusing on our strengths of building partnerships, Chriss will enable Rieke Metals to continue building strong foundations for growth.
Small business certification
Details
We have operated as a small business since 1991.  In 2015 Rieke Metals made it official by registering in the System for Awards Management (SAM) database.  With this registration, the company has made it easier for their customers to accurately report their small business engagement to the federal government.  If your company has a supply base diversity program, doing business with Rieke Metals will help you meet your goals.  If you would like additional information or verification, please contact us.
Quality management system
Details
Rieke Metals has implemented a QMS to support customers who have stringent quality requirements for intermediates and raw materials utilized in the pharmaceutical industry's clinical and commercial manufacturing.  Based on ICH QA7 guidelines, the company has implemented tools including Standard Operating Procedures, Validated Test Methods, a Change Notification Process, a CAPA program, etc. This QMS is an essential part of Rieke Metals' commitment to support their customers from research through commercialization of their products.
Congratulations to Dr. and Mrs. Rieke
Details
The Rieke Metals team would like to extend their best wishes to Dr. Reuben Rieke and his wife Loretta on their July 2015 retirement.  Both chemists, Dr. and Mrs. Rieke founded the company in 1991 after a successful career in academia to help advance chemical research. The company started with a single employee in rented lab space and over the next 23 years grew under their direction.  Dr. Rieke greatly enjoyed being out in the lab creating new molecules and methods.  Both enjoy traveling and were excited to have work take them on national and international business trips.  In 2006, their daughter Elizabeth joined the company and continues working there today.
While they will miss seeing old friends and talking chemistry at trade shows, the Rieke's are eager to spend more time pursuing hobbies and "hanging out" with their four teenage grandchildren.  They want to thank all of Rieke Metals' employees and customers for the unforgettable memories.