Rieke Metals has long been known for our organometallic chemistry. Our organozincs are made utilizing our patented active zinc metal and produces high purity, high yielding, highly functionalized products that enable the formulation and commercialization of our customers' products.
The benefit of using an organozinc include:
Offers a more efficient and direct route in reaching your target molecule

Improved yields due to fewer side reactions
Reduced synthesis steps
Readily undergo transition metal catalyzed coupling reactions

Ease of handling
Relatively low toxicity and hazard risks
Favorable shelf life
Rieke Metals offers these products as 0.5M up to 1.0M solutions in THF or MeTHF for flexibility in your organozinc requirements.
Did you know that not only can Rieke Metals produce the organozincs, we can use those organozincs to perform carbon-carbon bond forming reactions. These reactions include - synthesis using transition metal catalyzed cross-coupling reactions such as Negishi methodology. This eliminates another step in your process and allows for easier shipping and handling to our customer.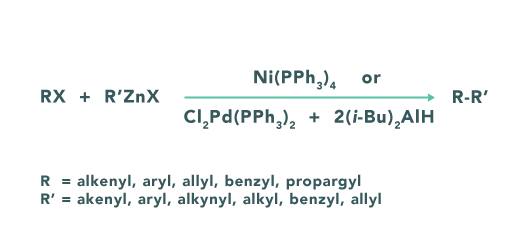 Contact us to discuss your custom application.